When to use a Sexy Elegant Lace Off-the-Shoulder Bodysuit
Have you ever considered that a sexy bodysuit can actually become a great clothing item? When you are trying to obtain an original look or want to try something different, a bodysuit can be an ideal choice. It will flatter your body in its upper part and you have the freedom to choose any bottom you want.
Unlike tops that are tucked in the pants or skirt. The bodysuit will never come out, risking giving you a negligent appearance.
So, if you want to invest in a special item, seriously consider investing in a bodysuit. If you opt for a sexy elegant lace off-the-shoulder bodysuit, it's even better.
This piece is feminine, charming, elegant, and very versatile.
Would you like to know how to wear it? Just take a look below and see our suggestions.
The perfect outfit for a night in the club
If you're getting ready for a night in the club and you are not sure what to wear, a bodysuit will help you out. With an adequate bottom, a lace off-the-shoulder bodysuit can give you a spectacular look.
You will be sexy and feminine and will certainly get a lot of attention when going out. You see, some ancient cultures believed that the neck and shoulders of a woman are very sensual.
So, displaying the bare skin of these parts was considered very arousing. While it is true that times changed, the neckline and shoulders of a woman are still very charming and delicate.
With this bodysuit. You will be romantic and sexy at the same time, even mysterious, which is just what you need if you want to attract the eyes of men.
Opt for this bodysuit and you will see that dressing up for a night out is not that complicated at all.
When you have a romantic rendezvous
Again, off-the-shoulder blouses are very feminine and will give you an enchanting appearance. If you know that you have a date or romantic rendezvous with someone that interests you, this bodysuit may come in handy.
With its help, your date won't be able to take his eyes off you and this is exactly what you want to obtain.
You can pair the bodysuit with a pair of pencil pants or a skirt, depending on your personal choice, and you're ready to go.
Don't forget to wear some makeup and style your hair a little. Since you are wearing a feminine bodysuit, off-the-shoulder type, it would be great to wear a sheer makeup and wavy, romantic hair.
Of course, you can always wear the makeup and hairstyle that works best in your case.
The most important part is to feel comfortable during your date, so you can be yourself and really enjoy your time.
When paired with a maxi skirt, it looks more romantic
But what if you want a more romantic look instead of a sexy one? Believe it or not, a lace off-the-shoulder bodysuit can still represent a great choice.
Pair it with a fluid maxi dress and a pair of flat sandals, fantasy earrings, and style your hair in a way that is representative for you.
You see, you can make the off-the-shoulder thing sensual instead of sexual. It only depends on how you wear it and the kind of attitude you adopt.
In case you want to be attractive but not vulgar, it is better to display your shoulders, instead of showing off your legs by wearing a short skirt.
Of course, this is a matter of personal preferences and style, but it is worth alternating styles now and then.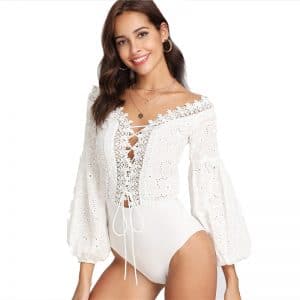 In case you plan on enjoying an evening walk on the beach or visiting the cocktail bars located next to the waterfront, you could use an off-the-shoulder bodysuit.
In this case, you can wear it with a pair of short pants and flat sandals. After all, time at the beach, whether it's in the evening or morning, is about feeling relaxed and enjoying the breeze.
But, since you are interested in the way you look, a lace off-the-shoulder bodysuit will give you the feminine appearance you want while preserving your personal comfort.
When looking to enjoy an ice-frappe on your vacation
You need to have an off-the-shoulder bodysuit with you on your vacation, especially if you plan on visiting an exotic location.
You will love this clothing item in those late mornings when a cool ice-frappe will be much more suitable than the traditional cup of coffee.
Enjoy this comforting beverage on a terrace, away from the hot sun's rays, while allowing the breeze to slowly wake you up.
You are in a vacation, after all, so there's no rush whatsoever. Still, this doesn't mean that you have to dress in a negligent manner. But, with the help of a bodysuit, dressing up will become an easy and fun task.